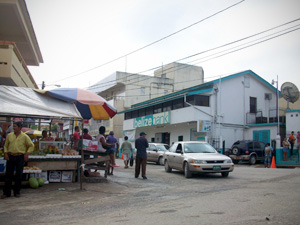 If you are looking for a bank, your problem won't be where to find one, your problem will be which one to chose. Majority of banks in San Ignacio are located right on Burns Avenue, if you are coming down Burns Avenue from the Hawksworth Bridge you'll find Scotiabank & Atlantic Bank which are the easiest to find as they are the first banks, and are on the opposite side of the street from each other, now take a little walk down more and you'll find Belize Bank, and if you continue and take a right, you'll run in Alliance Bank. Hopefully one of these banks will be able to fulfill your banking needs:
Atlantic Bank:
Atlantic Bank Ltd. was established in Belize City on August 16th, 1971.

Atlantic Bank offers personal and commercial banking services including savings accounts, certificates of deposits, checking accounts, loans, credit cards, point of sales and other financial services. Atlantic Bank has 15 locations country wide with a network of 18 ATMs. Our friendly staff, reliable service and technological advancements make us the leading Bank in Belize.
Address:
Burns Avenue
San Ignacio,
Cayo Dist.
Belize, C.A.
Telephone 501-824-2347
Fax 501-824-2445
Services:
Savings & CDs
Checking Account
Credit Cards
Consumer and Commercial Loans
On-line Banking
24 hour ATM service
Debit Cards
GoMobile (Cellular phone airtime recharge)
Bill Payments
Foreign Exchange
Insurance
Safety Deposit Boxes