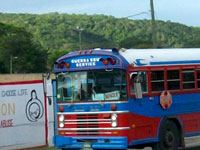 Transportation in the "Twin Towns" is available in many forms and for different budgets. Most of the time you will be able to walk to your destination in town. However, if your destination is located a few miles outside of town you may be able to ride the bus which has runs every 30 minutes east and west-bound. However, convenient taxis/cabs are available and these can take you wherever you want to go at different prices.
Getting To San Ignacio: from Airport
Most of the times hotels and resorts would have a shuttle that would pick you at the airport and drop you at your hotel door in San Ignacio. However, if you do not have this type of arrangement you may do the following: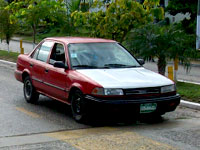 1. Taxi: You can take a taxi from the Airport to San Ignacio. However, even though this is very convenient and relatively quick, it is very expensive.
2. Taxi/Bus combo: First of all, you may need to take a taxi from the airport to the bus terminal in Belize City. This is a 20-minute, approximately US$40, trip. At the terminal, you can board the bus heading West en-route to Belmopan, San Ignacio, and finally Benque Viejo. The bus (normally without Air Conditioning) will make many stops on the way picking up/dropping off people. Bus fare from Belize City to San Ignacio is BZ$7.00 per person. Once you are on the bus you just need to inform the conductor where you would like to go and he/she will assist you if you have any questions about your final destination.
3. Vehicle Rental: If you are renting from the airport follow these driving instructions. There is only one road that takes you out of the airport. At the junction with the Northern Highway, turn LEFT. Continue driving north on this highway towards Corozal until you see an intersection with a police checkpoint. Turn LEFT towards "Burrell Boom" and continue on this road until you meet the Western Highway. Make a RIGHT on the Western Highway and continue driving on this highway, passing Belmopan City and many villages, until you reach San Ignacio.